Printing Services Everett WA - We Design, Print & Promote...You! We Are Open!

Welcome to Minuteman Press of Everett, WA. We are a great choice for printing and would love to be your go-to print partner.  No matter how big or small your project is, we have the know-how, experience, and partners to get the job done.
To get help on your next project, or to place an order, visit our Customer Service Area. Check out our Products & Services area for a detailed list.  For software downloads and answers to common printing questions, visit our Resources & Support area. To learn more about us, browse our Company Information section.
Minuteman Press Everett is Family Owned, Locally Operated. . . 
Minuteman Press has been part of the community in downtown Everett for more than 30 years offering a large variety of print and marketing services. You get a small-town local experience while we utilize our international corporate support system to assist with your standard and custom projects. We have years of design and print experience to work with you from idea phase, to print completion, or any point in between.
You can complete your project start to finish and never leave your home or office. (find Request a Quote, Place an Order or Send a File above)  If your preference is face-to-face, one on one customer service come on in and we will be happy to assist you.
Not Just "Copies," So Much More
Full service quick commercial printing that includes business cards, postcards, newsletters, flyers, brochures, posters, letterhead & envelopes, manuals, presentation folders & marketing materials, and so much more
Labels
Full-service bulk mailing services
Signs, banners, magnets, and other large format print items
Screen printed t-shirts and apparel decorating
Promotional Products
Engineering drawings
Black & White and Color copies, scan, fax and emailing services
We hope you enjoy your visit to our site. If there is anything we can do to further improve your experience, please let us know. We are always looking for ways to better serve our customers.
To see a full list of our services, click here.
We serve Everett, Marysville, Snohomish, Lake Stevens, Mukilteo, Arlington, Stanwood, Mill Creek, Lynwood, Monroe, and Granite Falls.
Commercial Printing Services in Everett
Fast Printing (Quick Turnaround)
Minuteman Press Everett will give our best effort to meet your print schedule.  Always contact us first when you have a rush date.  Furnish production-ready files to help speed the production timetable.  If not, we have experienced computer graphic capabilities
Everett Custom Printing
Minuteman Press Everett is a great choice for every type of printing. We are your go-to partner for printing in the local market. No matter how large or small your project is, we have the know-how, experience, and partners to get the job done. Whether shopping or ready to go, contact us.  We are as close as your phone or keyboard.  
Digital Printing
Digital printing has become the workhorse of the printing industry. Minuteman Press Everett has digital full color and black and white printing capability.  Digital printing is a fast, cost-effective option for your printing project: reach out to us below for pricing and information.
Offset Printing
It's how we got our start more than 30 years ago. From one and two-color short run forms, letterhead, and envelopes, and much more to four color process large run offset printing, we're experts in the printing trade.  Our offset printing is perfect for simple projects to more complicated products ranging from brochures, large format posters, booklets, menus, and more.
Bindery Services
In addition, we have a comprehensive array of finishing options.  Check us out for binding services, such as 3 hole drill, saddle stitch, plastic coil, comb, wire O, and perfect bind for your books and manuals.  If you don't see what you are looking for contact us.
Signs and Banners
Digital Signs and Banners
We offer full-color sign and banner printing on numerous substrates/materials like coroplast, foamboard, banner material, metal, a-frames, and more. The perfect complement to conventional printing when you want to get your message across. Minuteman Press Everett is an affordable sign and banner source.
Coroplast Signs
Perfect for political campaigns, awareness-raising, advertising, real estate, and more.  18x24 is the most popular size. Smaller and larger sizes available, along with contour cutting.  We also provide H-frame wires. One or two side printing available.
Political Printing and Mail Services
Candidate, campaign, incumbent, movement, cause. We can partner with your team to make the most with your campaign dollars.
Signs, business cards, banners, remit envelopes, postcards, doorbelling pieces, rack cards, flyers, letters, business envelopes, bulk mail, campaign apparel and whatever else you need to promote your campaign.
You may have a "go-to guy" or work with another vendor already.  All we ask for is the opportunity to give you a quote. At the very least, you can keep your current vendor honest once you see our pricing.
Apparel & Decoration Services
Screen Printed T-Shirts / Apparel
Minuteman Press Everett offers screen printing services for t-shirts and other apparel.  From one color to multiple colors, we can handle any size job.  We can provide t-shirts for your project or you can supply your own. Plus, we offer fast turnaround and some of the best prices in the Everett local market.
Decorating Services
We offer embroidery services. Perfect for hats, polos, scarves, jackets, and other apparel.  Embroidered apparel is essential for effective branding, uniforms, and projecting a cohesive image.
Apparel Catalog 
News Center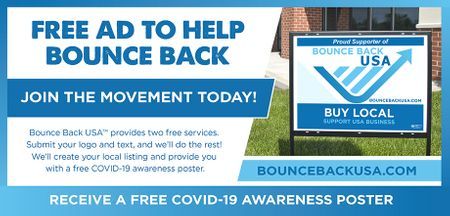 Our company is kicking off an initiative called Bounce Back USA.   Bounce Back USA was created by Minuteman Press to offer two free services to help support all of our neighboring businesses as we find a way to work together through these trying times.  First, we are distributing COVID-19 awareness and prevention posters at no charge to any business in our service area. Second, we are providing free local advertising on our site (see tab below) to stimulate business and help all of our neighbors overcome the tremendous economic effects of the COVID-19 pandemic.  We truly believe that a rising tide will lift all ships, and we want to make sure our communities stay afloat.  
Please use the form on our Everett page to submit your company's special offer or supportive message for publishing on our site at no charge. Just upload your logo and the message or offer, and we'll publish your message in the appropriate category.
Join the coalition now to show your support and solidarity with the business community in our neighborhood!